< Mirror >
Oil on Canvas 90.9x72.7cm

TAKAHIRO IMAI

Solo Exhibition

Booth No. : 721 Floor Plan
Show Dates
Wednesday
January 27, 2016
Vanguard Entrance
7pm - 8pm
Patron Reception
7pm - 11pm
Opening Night Premiere
8pm - 11pm
Thursday
January 28, 2016
11am - 7pm
Friday
January 29, 2016
11am - 7pm
Saturday
January 30, 2016
11am - 7pm
Sunday
January 31, 2016
11am - 5pm
Photo of Exhibition 》
Takahiro Imai is an artist known for female portraits of unique expression, supported by his solid drawing technique and contemporary sensitivity. He believes that his painting reflects Japanese culture of our time on the whole. In an art magazine interview, Imai said that he grew up in the environment full of animation, manga, Internet, etc., and that such various subcultures might have had some influence on his work. But, there, he denied specific influence; Imai's style, in which today's young women seem to be able to see private stories of heroines, has obtained favorable supports among the art fans. His paintings are loved not only in Japan, but also in Asia, Europe, and America. Though adopting traditional techniques of oil painting for the female motif, Imai succeeds in making a contemporary taste and narrative feature stand out.
Japanese Pop Art Now: Panel Discussion, Thursday, January 28, 2016 at 3pm, at Lecture Area.
Panelists include: Kenji Tsutsumi (Watanabe Fine Art), and Takahiro Ima (Taimei Gallery),
                             Hiroshi Mori (S.E.A.) with anime voice-over actor Lisle Wilkerson, moderating.
Exhibition Works




< Mirror >
Oil on Canvas 90.9x72.7cm
< Foreign >
Oil on Canvas 100.0x72.7cm




< Temptation >
Oil on Canvas 65.2x50.0cm
< Postman >
Oil on Canvas 72.7x53.0cm




< ACT 5 >
Oil on Canvas 33.4x24.3cm
< Verdict >
Oil on Canvas 53.0x45.6cm




< Home Work >
Oil on Canvas 65.2x90.9cm
< Cantata >
Oil on Canvas 60.6x80.3cm




< Comet >
Oil on Canvas 72.7x53.0cm
< ACT XI>
Oil on Canvas 45.5x33.3cm




< Nostalgia >
Oil on Canvas 65.2x50.0cm
< Cremisi >
Oil on Canvas 40.9x24.3cm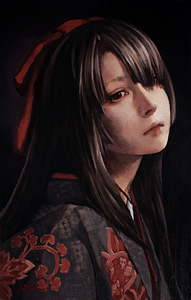 < Daisy >
Oil on Canvas 33.4x24.3cm


Profile
〈 Profile 〉
1986 Born in GUNMA
2009 Graduate from Tama Art University
2010 HAKUJITU PRIZE by Hakujitsukai Art Exhibition

〈 Solo Exhibition 〉
2008 Solo Exhibition (ORIE Gallery / Aoyama, Tokyo)
2009 – Radical Classic – (TAIMEI Contemporary Art / Ginza, Tokyo)
2010 – Merry rays – (TAIMEI Gallery / Ginza, Tokyo)
2012 – MARGINAL BLACK – (TAIMEI Contemporary Art / Ginza, Tokyo)
2013 – variations infinity – (ART FAIR TOKYO / Yurakucho, Tokyo)
2014 – elemental craft – (TAIMEI Gallery / Ginza, Tokyo)

〈 Selected Group Exhibition 〉
2008 Hakujitsukai Art Exhibition (The National Art Center / Tokyo) After that it is every year
2009 Asuno HAKUJITIKAI Exhibition (Nihonbashi, Tokyo) After that it is every year
2011 Young Art TAIPEI (Taipei, TAIWAN)
2011 LIONCEAUX PLUS Exhibition (Nihonbashi, Tokyo) After that it is every year
2012 Art Beijing (Beijing, CHINA)
2012 Tarot Card Original Picture Exhibition (TAIMEI Gallery / Ginza, Tokyo)
2013 REALISM COMPLEX Exhibition (Nagoya, Aichi / Shibuya, Tokyo) After that it is every year
2014 Hakujitsukai Selected Art Exhibition (Nihonbashi, Tokyo)